Classical Dances of India
Classical Dances of India is  one of the most important topics in Bank exams as well as in all general competitive exams.
Sangeet Natak Akademy (The National Academy for Music, Dance and Drama) is the national level academy for performing arts set up by the Government of India. This Academy recognized 8 classical dances depending upon the source and scholar.
Indian Classical Dances:
According to the Government of India we have Eight Classical dances but some great scholars added 3 more classical dances to it those are Chauu, Yakshagana and Bhagavath mela to the list. But Cultural ministry in government of India includes only Chauu to the  classical list. Perini shivatandavam is also a Classical dance added into it by Telangana Govt in 2014 after Bifurcation. Now the classical dances are Nine.
The classical dance forms recognized by the Sangeet Natak Akademy and the Ministry of Culture are:
| | |
| --- | --- |
| Classical Dance  |  Origin |
| Bharatanatyam | Tamil Nadu |
| Kathak | Northern and Western India |
| Kathakali | Kerala |
| Kuchipudi | Andhra Pradesh |
| Perini | Telangana |
| Odissi | Odisha |
| Sattriya | Assam |
| Manipuri | Manipur |
| Mohiniyattam | Kerala |
Brief Note on Classical Dances of India
Bharatanatyam: (Tamil Nadu)
It is the First Indian Classical Dance and  also name it as mother of Classical Dances. Conventionally a solo dance performed only by women in Bharatanatyam.
Bharatanatyam is derived by joining two words Bharata and Natyam.
"Bharata "  is again comprising from three words 'Bha' , 'ra' and 'ta'.
'Bha' means 'Bhava' that is emotion and feeling 
'ra' means 'Raga' that is melody
'ta' means 'tala' that is rhythm.
'Natyam' in Sanskrit means Dance.
Simply Bharatanatyam means a Rhythm of  Dance by expressing emotions and feelings according to the melody.
Khatak : (Northern and Western India)
Kathak is one of the main Indian classical dances and is a traditional Dance.
Kathak is performed by  Kathakars or storytellers.
These Kathakars travel one place to another and communicate legendary stories via music, dance and songs quite like the early Greek theatre.
The Kathakars communicate stories through rhythmic foot movements, hand gestures, facial expressions and eye work.
These kathakars performs about great Indian epics, especially from the life of Lord Krishna became quite popular in the courts of North Indian kingdoms
Kathakali : (Kerala)
'Kathakali', is  also a  storytelling Classical Dance form with unique face masks and costumes worn by dancers.
The Dressing and vivid make up makes them different from other Classical Dances.
 Traditionally performed by male dancers.
Kuchipudi : (Andhra pradesh)
Kuchipudi is a dance-drama performance art that originated in a village of Krishna district of Andhra Pradesh, India.
Performance repertoire of Kuchipudi that is broadly oriented on Lord Krishna and the tradition of Vaishnavism include an invocation, dharavu – short dance, nritta – pure dance and nritya – expressive dance respectively.
Actually Brahmins performed 'Brahmana melas' or  'Brahma mela'  art during the medieval era. It developed in South India's Tamil region as 'Bhagavata Mela Nataka' and in Andhra region as Kuchipudi.
Odissi : (Odisha)
Odissi or Orissi is one of the classical dance forms of India which originated in the Hindu temples of the eastern coastal state of Odisha in India.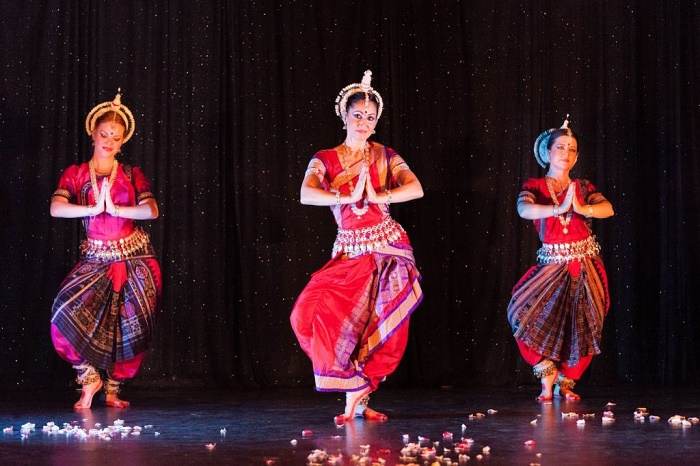 Perini Shivatandavam🙁 Telangana )
Perini Shivatandavam (Perini Śivatandavam) or Perini Thandavam is an ancient dance form from Telangana which has been revived in recent times.
Nataraja Ramakrishna was the person who revived this art form recently
It is originated and performed in telangana during Kakatiya Dynesty. This performance done by males only.
It is also called 'Dance of Warriors'. Warriors before leaving to the battlefield enact this dance before the idol of Lord Śiva (Shiva).
Sattriya : (ASSAM)
Sattriya or Sattriya Nritya, is a major Indian classical dance.
The themes played relate to Krishna and Radha, sometimes other Vishnu avatars such as Rama and Sita.
Recognized in 2000 as a classical dance by Sangeet Natak Akademi of India.
Manipuri : (MANIPUR)
Manipuri dance, also known as Jagoi  is one of the major Indian classical dance forms.
Raslila (The love between Radha – Krishna) Performed by minipuris in Hindu temples  and also they perform indian great epics 'Ramayana' and 'Mahabharata' so they also named as 'Gandarvas'.
Manipuri dance is a religious art and its aim is the expression of spiritual values and it is a team performance.
Mohiniyattam : (Kerala)
Mohiniyattam, also spelled Mohiniattam is one of two classical dances of India.
It is developed and remain popular in the state of Kerala. The other classical dance form from Kerala is Kathakali.
Mohiniattam dance gets its name from the word Mohini – a mythical enchantress avatar of the Hindu god Vishnu, who helps the good prevail over evil by deploying her feminine powers.
This mohiniatam performed by females only.
You May Also FInd :
Complete List of United Nations International years